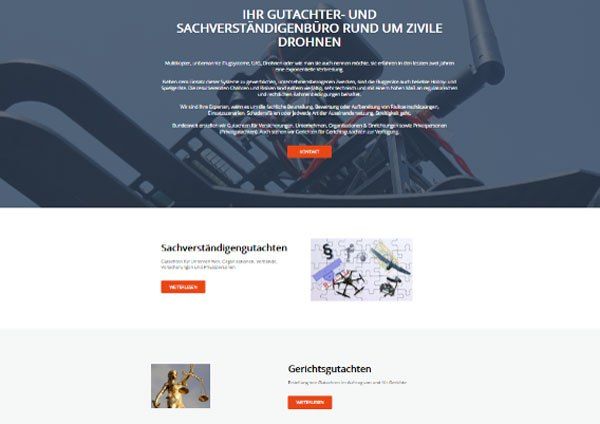 Expert for drone technology - Copting GmbH

Expertise for commercial and private customers

Whether damage, risk assessment or technical assessment, there are various reasons for hiring an expert for drone technology. Copting GmbH in Braunschweig is at your side as an experienced and competent expert. A trained eye, a high level of technical expertise and objectivity are required for the preparation of expert opinions - skills that our team brings to your order.

www.drohnensachverstaendige.de
Our services as an expert for drone technology - this is how you benefit from us
We prepare reports for the deployment, operation, use, technology and peripherals of UAS, UAV and civil drones. In some cases, the use of a drone technology expert is essential, as this area is extremely complex. The special features of drone technology range from the technology of the different components, their interaction and the challenges of the many different peripherals to the wide range of applications and complicated framework conditions.
With many years of experience and well-founded specialist knowledge, we prepare assessments, clarifications of facts as well as private and court reports.
Use our service and you are on the safe side.
This is how you reach the right expert for drone technology
At www.drohnensachverstaendige.de you will find further information on our services as experts and appraisers. Of course we are also available for information here.
Write or call us and we will advise you in detail. In any case, we guarantee you independent and comprehensive appraisal activities.