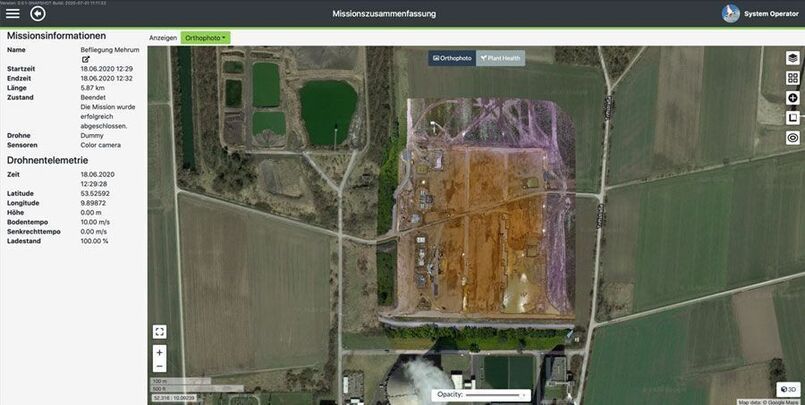 Drone control station
Central control
In your control center you can access every connected UAV and issue flight orders. You receive the data from the multicopters, be it the image from the camera or the telemetry data in real time, and can thus react to the respective scenario.
Plant protection / security
Have your UAVs fly predefined routes, either on request or at a timed schedule, in order to get an idea of ​​the current situation. Respond quickly to unforeseen events (e.g. a burglary report) and send a drone to the site to provide the ground-based security teams with a picture of the situation as they approach.
Fire brigade and rescue service
Nobody knows in advance when and where a damaging event will occur. Nevertheless, it is of decisive advantage to provide information for the advancing forces as quickly as possible. You can achieve exactly that via the network and the control center, even without owning a multicopter yourself.
Forestry
As a forester, you usually have several hectares of forest to manage. This also includes checking for pest infestation. With an appropriately equipped drone, the forest can be flown over within a very short time and you will receive an evaluation of the respective condition. In order not to have to buy a drone yourself, you can use third-party providers. This saves you investments in technology and the training of a pilot.
Agribusiness
The continuous observation and analysis of your own cultivation and reserve areas is an elementary part of a successful agricultural economy. The use of UAVs to support these activities has steadily increased in recent years. Farmers can of course do this themselves with their own flight system. However, one must then also have the necessary software tools for recurring mission planning/implementation and data analysis. Here, too, all tasks can be taken over via our cloud service or by, for example, a cooperative or a service provider.
General
Globally available, modular, cloud-based & multi-tenant system

Hosting in Germany according to the security standards of the BSI and the current ones

Data Protection Regulation (EU GDPR)

Innovative system architecture based on the latest industry and aviation standards

System availability >99.5% and support for German and English

All modules are platform-independent and can also be used on mobile devices via secure browser communication.

Flexible user, authorization and profile management (integration into X.500 directory services and Microsoft ADS possible)

Activity log including audit-proof archiving
Flight planning module
Intuitive 3D route guidance via mouse click or touchscreen

Planning routes and operations in accordance with applicable law

View all maps including available no-fly zones and control zones

Availability of all contacts from aviation authorities and airports as well as important public institutions.

Automatic preparation of documentation for authorities
Flight control module
Permanent flight control (VLOS, EVLOS & BVLOS) via secure IP communication

Safely controlled payload (camera, transport box or sensors)

Constant video surveillance during the flight

AI-based, centralized and decentralized Detect & Avoid procedures

Integrated, independent safety and emergency landing functions