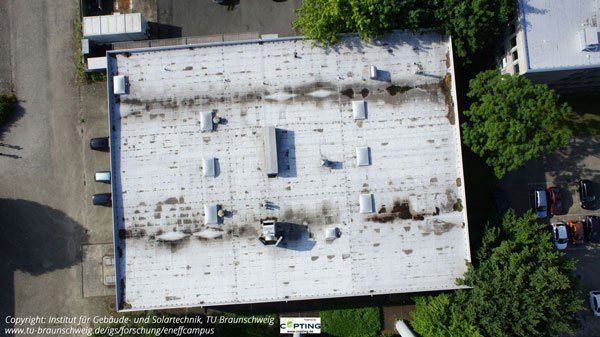 Copting GmbH

Maintenance, planning, documentation

Maintenance workers, facility managers, experts, etc. often find it difficult to get an initial overview of buildings, facades, roofs, towers, etc.

Be it spatial obstacles, missing or very difficult access, heavy vegetation. Even with free access, building heights, for example, force the use of expensive lifting platforms, cherry pickers or even scaffolding.

Visual inspection and documentation from the air.
We are able to relieve you of the first step of the visual inspection and status documentation quickly, flexibly and economically with aerial photographs. Different views and perspectives allow you to quickly obtain high-resolution images for further analysis. You quickly gain a complete overview and can use this as a basis to plan and carry out or commission all other necessary measures. Thanks to the documentation that has already taken place, orders can be placed precisely and subsequently checked. With this overview, the unusual perspective and the documentation created based on the aerial photographs, you can prioritize all measures and carry them out or commission them very precisely.
Equipped with thermographic cameras, we also provide you with overviews and insights that provide you with even more information about the condition of buildings, systems and other facilities. Regardless of whether it is about energetic measures, detection of leaks, corrosion testing of piping and lines, leak tests and much more, we will provide you with the necessary recordings.
There is no faster or more efficient way. We fly roofs, facades, systems, areas, piping, construction areas, construction sites, chimneys and much more. If you would like to find out more about the possible uses, please contact us at any time.