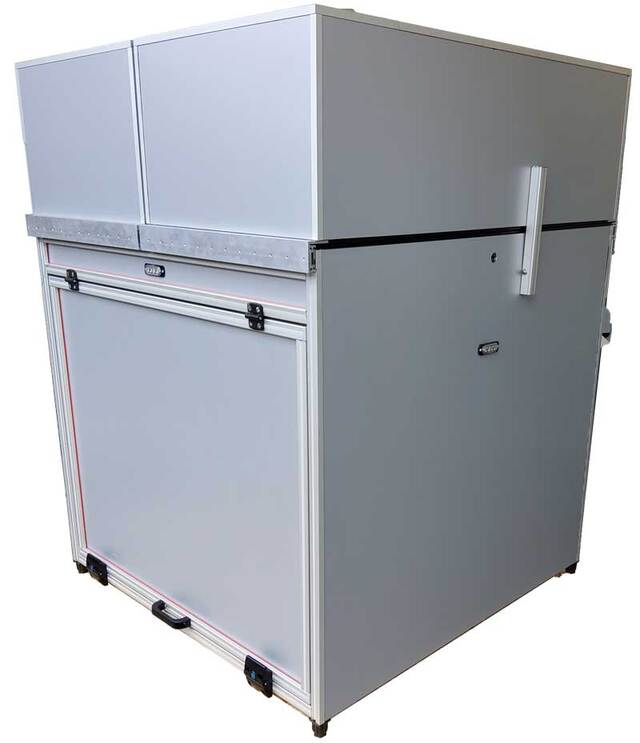 Decentralized stationing of your UxV

Hangar "DOMUM"

Hangar for almost all unmanned systems (UAV & UGV).

Weatherproof, air-conditioned, emergency power supply, modular, variable in size – operational 24/7, 365 days a year. Do you already have UAS, drones, VTOLs or unmanned vehicles in operation and are you looking for a way to station them in a decentralized hangar? Then we have the perfect solution. Our "Domum" hangar system actually designed for our flight systems, can also be used for products from other manufacturers. Thanks to the modular design, we can easily align our hangar with your flight systems. Variable in width, depth and height, we can offer almost all flight systems a "home". We can fully equip the hangar according to your wishes and requirements (air conditioning, emergency power, dehumidification, heating, IP interface, drone repositioning, automatic charging, etc.). Basically we are only limited by the possibilities and interfaces of your flight system.

Hangar for your UGV
And if you do not fly unmanned but drive, use unmanned vehicles (UGV), our hangar "Domum" is also the product of your choice. We just turn the use of the interior and your unmanned vehicle has a garage. Weatherproof and robust. Due to the unique modularity of our "Domum" hangar, we can adapt it to a large number of UGV types. Same technology, same interfaces, different appearance - decentralized stationing of unmanned systems can be that easy. To know more about our possibilities just contact us and we show you our possibilities.