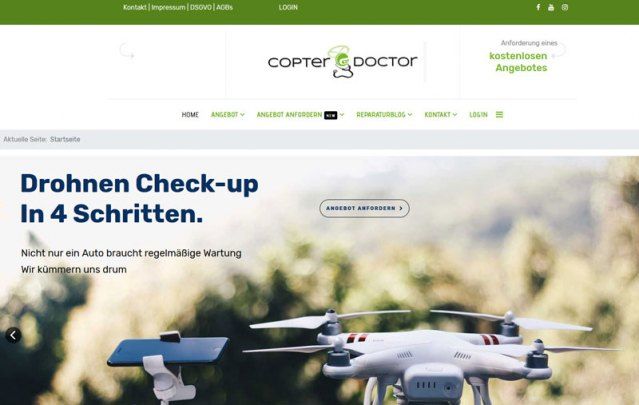 Drone repair by the expert

The Copterdoctor

If there is something to fix, we are there!

As with any technical device, even the smallest defects in unmanned aerial systems must be acted upon quickly! If the damage is not repaired, there is a risk of the technology failing completely and this can lead to significant safety risks. Now the skills of an expert are required. And this is where the Copterdoctor comes into play! We repair drones from most manufacturers and thus ensure that they function properly again.

www.copterdoctor.eu
Drone repair process at Copting GmbH
A high quality of our services for satisfied customers is a matter of course for us. Only well-trained and experienced technicians work in the drone check-up and repair center and take competent care of your device. After the professional repair, you can immediately use the drone again as usual. At Copting GmbH, transparent prices are just as much a prerequisite for top service as detailed advice.
Based on your information, we will create a free online repair offer. You can then send us your copter or bring it by. Trust in our many years of experience in the field of drone technology. But our services go much further. We are also happy to take care of your entire fleet of drones. You can also find detailed information on drone repairs on our website www.copterdoctor.eu.
You can also entrust us with the maintenance of the drones
Another tip: A sensible investment in the safety and durability of drones is regular maintenance, which our team also carries out independently of the manufacturer and equipped with the latest technology. This makes it possible to uncover damage that is not yet visible, so that in many cases costly repairs can be prevented.
If you wish, you can conclude a maintenance contract so that you never miss an appointment again. Whatever your requirements, we offer the right solution.
Request your free offer now!