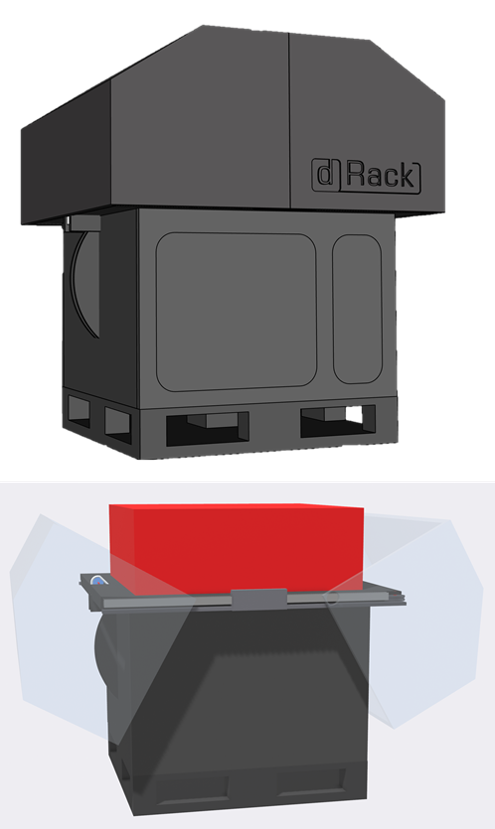 Decentralized stationing of your UAVs

Drone hangar "DOMUM"

Weatherproof, air-conditioned, emergency power supply, modular, variable in size – operational 24/7, 365 days a year.

More and more drone applications make it necessary to provide one or more drones in a decentralized operational environment. On spacious plots, on roofs, for temporary use in sensitive areas - our drone hangar fits almost anywhere. Would you like to station a drone in a remote or difficult-to-access area and regularly patrol the area or have it started on alarms? Our hangar is your first choice for your project.

Its equipment comes as standard with air conditioning, dehumidification, heating, warning lights and acoustic signal when opening / closing. IP interface and of course the connection of an external power supply. An emergency power supply can be integrated. It doesn't matter which one of our drones you want to deploy.

All of our systems are designed to be stationed in the hangar. Whether free-flying or tethered, one system for everything. Our "Domum" drone hangar can be delivered in different sizes. The hangar is correctly dimensioned to match our UAS M-UAV or Transformer.

UAVs from other manufacturers can be integrated too. Just send us the size of your drone and we adopt the hangar's dimensions accordingly.
Due to its modular design, an extension, adaptation and adding your hardware is of course also possible, even at a later point in time. It is perfect to make your investment future-proof.
The very robust construction is made out of a unique materials (PE 100) which is highly temperature resistant (-50°C - +80° C). It is very robust, weather-resistant, very durable and with an chemical resistance.
The very robust construction, using a minimum of stainless steel or metal elements, prevents mechanical faults caused by naterial deformation, icing foreign objects and is therefore very durable and reliable.
The unique opening and closing mechanism also works without electrical drives. The hydraulic mechanism stands for durable, maintenance-free operation, opens in 10 sec and closes in 14 sec.
Use our hangar in combination with our M-UAV or TransformerUAV and our tethering system to get a perfect mobile mast. The hangar as well as the drone and the mounted sensors are controlled, for example, via a secure network connection with our professional control software. Of course, it can be connected to your control center. The use of our M-UAV and TransformerUAV as free-flying UAS is of course possible. This is why we also offer suitable communication and command & control solutions.
We provide you with all the relevant components for decentralized deployment scenarios: hangar, drone, tethering, control software, project management, ConOPS and specific operational risk assessment (if needed).
To know more about our possibilities just contact us and we show you our possibilities.
Use case aerial surveillance, free-flying UAV
Installation of several hangars depending on the size of the site. In the event of a perimeter violation (existing alarm system), the Nearest drone starts automatically from the hangar and flies into the alarm zone on predefined routes. The command center staff can use the live streams to analyze the situation and take appropriate action.
It is of course also possible to control the drone from the command center. With available live image analysis on board the drone, it is also possible to automatically track and follow the intruders.
Use case surveillance with a tethered drone
Stationing of a tethered drone including hangar on a roof of an industrial building. The UAV can take off at predefined schedule and carries out area monitoring. The tethering including network connection enables permanent power supply with live image transmission, without restriction due to normal battery operations. The UAV can also start based on an alarm, eg an intruder alarm is triggered.
We receive the ID of the alarm sensor via our customizable interface to your security center, transmit the correct target position to the UAV performing the flight operation and the command center receives an Overview of the situation in the shortest possible time.
Additional use cases
There are many more use cases for our Hagar. Let us talk about more scenarios.
There are many more use cases for our Hagar. Let us talk about more scenarios.