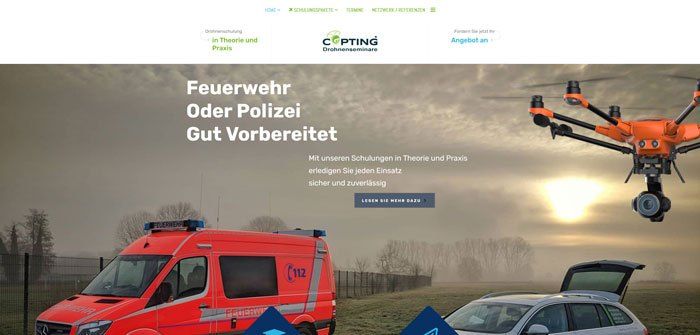 Training for drones - register now!

The right seminar for any requirement.

Safety is the measure of all things in drone technology, especially in view of the different locations and the challenges of surrounding buildings, weather influences and the wide range of possible uses of unmanned aerial systems. There are many influencing factors that need to be taken into account for safe drone operations. Intensive training in the use of drones is therefore extremely important. This is the only way to efficiently prevent hazards.

Copting GmbH in Braunschweig ensures nationwide that you become routine in the safe and professional handling of UAS, UAVs, copters and drones - with manufacturer-independent certifications, training courses for all trades, industry, BOS or security forces.

www.drohnenseminare.de
Training for drones by distinguished teachers
Benefit from training by and with professionals. You will only learn and practice with experienced pilots, who will provide you with the necessary specialist knowledge for the correct use of unmanned aerial systems in theory and practice.
All important information about the offer in the areas of education, training, education and coaching can also be found on our website www.drohnenseminare.de.
We conduct these training courses for drones and unmanned systems
Depending on customer requirements, individual or group training is possible. Thanks to our well-founded experience in the BOS area, our training courses are particularly suitable for the police, fire brigade, rescue service and first responder. We offer the right training program for every use case or need. You have the choice of completing the training at our UAS test center or at your location. We adapt to your requirements and always react flexibly.
Just call or contact us online!
Do you have any questions about our training courses for the use of drones or would you like to register directly? We would be happy to advise you in detail and look forward to working with you.