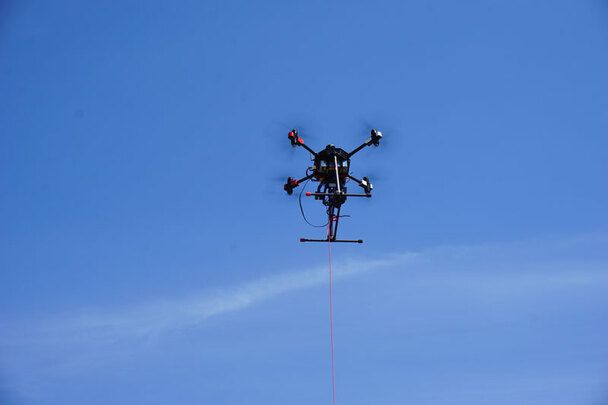 Our 4S and 6S tethering systems

Tethered drone

How to keep a drone in the air 24/7 without having to charge!

In the case of major disasters in particular, it can be useful to have a permanent overview of the scene. Approach and exit routes, staging areas and endangered areas can be better controlled. But UAVs also provide reliable data and images for other tasks, such as traffic counting or traffic monitoring. Copting GmbH has the solution for your high demands - tethered drones/tethering systems of the latest generation!
Our tethered drones offer these advantages
With the new systems from Copting GmbH, lighting units with a high wattage can also illuminate large areas. The cable delivers up to 2,500 watts to the copter.
We have responded to the challenges of drone technology with our technically sophisticated products: Until now, the height of ascent was limited due to the weight of the cable. Due to the constant further development of our products, we can now offer cable lengths of up to 120 meters. This enables a significant increase in height or a significantly larger range of motion.
By using different types of cable, high bandwidths for upstream and downstream can also be provided for the first time. Thanks to this modern technology, up to 200 Mbit can race through the line in both directions, so that real-time analyzes in video format are no longer a problem.
Use of the tethering system
The red cable provides the copter with uninterrupted power, so that flight times of 24 hours a day, seven days a week can be achieved. Especially in the case of major disasters or events, the drone allows a constant overview. The many advantages of our tethered drones for a wide variety of purposes will convince you.
Discuss your project with us!
Call us now or contact us online if you would like detailed advice on our services and products. You can be sure that you will always find the right product and accessories with us.